Explore
GREEN FRONT Rock House Farm Studio
American Made Custom Upholstery
A third-generation, family-owned business — just like Green Front! — Rock House Farm houses some of the most revered names in high-end furniture.
The Rock House Farm family of brands has quickly become a Green Front customer favorite! We are proud to offer customers a wide array of furniture and home decor designed by Century Furniture, Jessica Charles, Highland House, Hickory Chair, Maitland Smith and Hancock & Moore. Each of these manufacturers embodies Rock House Farm's commitment to product evolution and outstanding customer service. Discover the Rock House Farm family of brands in Building 10.
We traveled the globe to bring the world's finest rugs to Green Front Stores. Now, we're bringing them straight to you.
Fall in Love with Chairs: Jessica Charles
Welcome to the world of Jessica Charles, where a love for chairs translates into a unique line of upholstered furniture that brings elegance to any interior. Handcrafted by skilled artisans in North Carolina, each custom-fitted cushion promises comfort, durability and bespoke detailing. Experience the fine art of upholstery through perfectly proportioned tufting and a vast array of fresh fabric choices.
Leather Your Way: Hancock & Moore
Specializing in fully customizable, American-made furniture, Hancock & Moore takes the time to hand build a quality product, sometimes spending up to 80 hours on a single piece. Prefer a traditional silhouette? Invest in a timeless leather sofa or a leather recliner. How about the classic-yet-modern feel of transitional design? A smart swivel chair will grace your office space for years to come. Find Hancock & Moore in Building 7.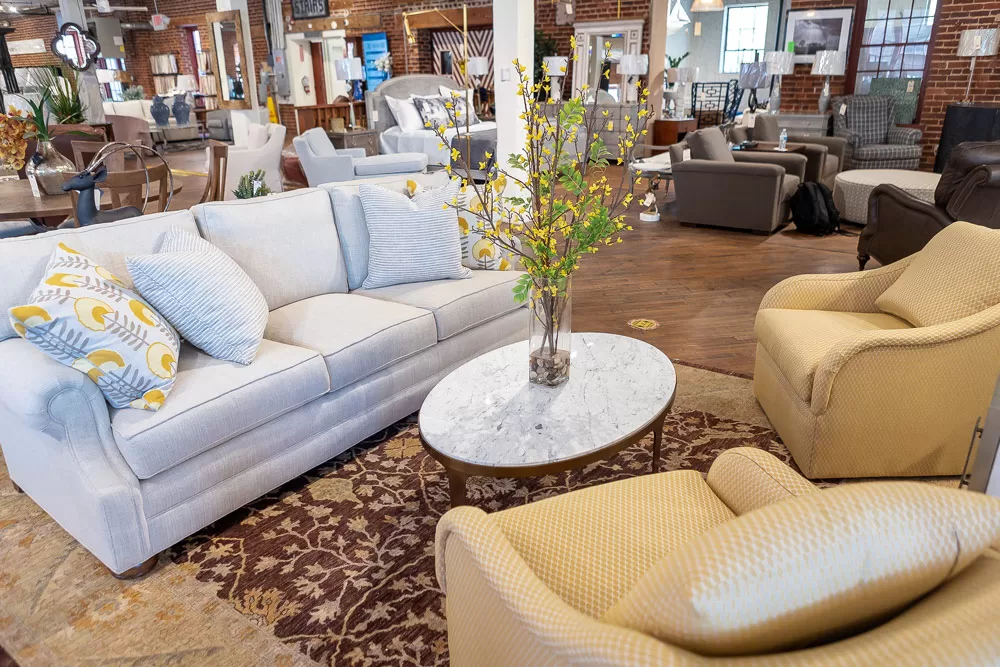 Tradition that Trends: Highland House
With over 50 years in the business, Highland House produces traditional, antique-inspired designs sourced from sustainable wood products. From French-inspired accent chairs and sleek sofas to dining room sets and bedroom furnishings, you'll discover the furniture you need to fashion your perfect space.
WHERE TO FIND AT GREEN FRONT