There was something different about Den Cralle's latest visit to India. It wasn't the 24 hours of delayed flights or catching a vicious stomach flu for a night. For a seasoned international traveler, those sorts of things are par for the course. What made this trip unique was one very compact travelling companion – a Fuji X-Pro2 camera. With this eagle-eyed sidekick in hand, Den was able to capture the detail and essence of the country like never before. Read on to see some of the most stunning moments this dynamic duo brought back and enjoy an adventure deep into the heart of India.
The whirlwind trip included stops in Jaipur, Jodhpur, Varanasi and Bhadohi, a ride on a night train, early AM flights and traffic jams—composed entirely of goats.
Jaipur, one of the oldest cities in Northern India, is known as the pink city due to the hue of the buildings. Jaipur is also home to five of Green Front's biggest rug makers. A major part of the trip involved giving Den and his team the opportunity to get up close and personal with rugs that have been ordered. He inspected them for quality and got a firsthand look at the way they are crafted.
"I was really surprised by how un-hindered I was having the camera with me," Den adds. "I was worried it might slow me down but it didn't. And having the ability to take these pictures that capture the essence of the places that the rugs and furniture come from made it totally worth it."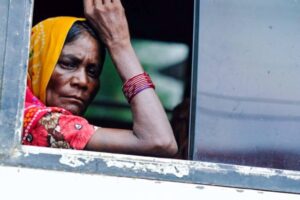 The rugs are put through an intensive process to prepare them for shipment to the United States, including a grueling washing using a large wooden paddle.
In Jodhpur, although delayed briefly by a traveler's stomach flu, Den and company were still able to fit what had been scheduled to be two days of furniture shopping into one day before taking a night train back to New Delhi and catching an early morning flight to Varanasi and Bhadohi.
The cities of Varanasi and Bhadohi were some of the most authentic Den visited. Streets were crowded with pedicabs and rickshaws, the preferred methods of transportation for locals.
This rug is being woven in Bhadoi, a city in the Uttar Pradesh state of India.
"It was a highly expedited trip," says Den. "But the fact that I had done it before really allowed me to move quickly and efficiently, maximizing the time that we had." Still, quiet moments to enjoy the morning paper, like this man, were virtually non-existent. The team had to maintain an exhausting pace throughout the trip.
Back stateside once again and with another successful trip to India in the books, Den and the Green Front Furniture team can enjoy some well-earned rest. Stay tuned to see the new finds and old favorites filter into the Farmville store soon.