Dawn Wolf, a Richmond based interior decorator and designer, is the woman behind the interior of the HomeSmith house at this year's Richmond Homearama. She shared a few simple, but high impact ways to duplicate the stylish design you'll see at this year's model homes.
After reading this blog, consider visiting her stunning work in person. Richmond Homearama runs through June 19.
Turn Up the Volume on Stylish Design
Don't be afraid to go brighter, bigger and bolder.
"Design trends are taking a turn towards bolder, more eclectic choices: brightly colored accent and draperies, statement mirrors, acrylic, glamorous living rooms," says Wolf. Fun, varied pieces in a more modern style will give your spaces an up to the minute edge. "Heavy, shiny brass finishes are being replaced with softer versions of un-lacquered and brushed brass," she adds.
Color Outside the Lines
Color is simple choice when it comes to updating a look.
"Paint is always an easy way to update. Allow your decor and not the wall color to be the statement in your space."
According to Wolf, "Painting an existing piece of furniture with a new pop of color, adding statement accessories and pillows, swapping out an old light fixture, adding a bold rug or draperies are all simple ways to reinvent your space. Have fun and don't be afraid of color."
Keep it Clean and Simple
"A simple decluttering can make a huge difference" in stylish design, Wolf advises.
"Cherished family photos are better displayed in a gallery wall rather than in large groupings on tables. Keep surfaces clear and allow your accents to stand out and make the statement."
You can extend the streamlined vibe by using creative storage solutions, like built in customized closets, pantries and shelves.
Go Green (Front)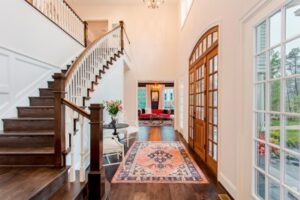 Area designers like Wolf use Green Front's massive selections to furnish the gorgeous Homearama homes. If you're new to the experience, it can be intimidating.
Wolf advises first timers to come prepared when shopping Green Front: "Visiting the many buildings of Green Front can be an overwhelming experience. The more prep-work you do, the better your experience will be. Come with a detailed list of what you need, room dimensions of the space you are filling, a measuring tape and camera." Our knowledgeable sales associates can also help if needed!
Her own personal strategy involves pictures and much needed rest breaks to assimilate. "As I see a piece I like, I take a picture, record its dimensions and move on. A lunch break provides a great way to analyze all your fabulous finds and go back to see those that deserve a second look."
For more of Dawn's expertise, you can contact her at 804-641-1445 or dawnwolfdesigns@gmail.com. Make sure to check out her work at this year's 2016 Richmond Homearama presented by the Richmond Homebuilder's Association and to connect with her on Facebook at Dawn Wolf Designs.