The Look
Home decor that's inspired by or taken directly from the earth just feels right. Objects from the natural world are one way to add calm and bring the outdoors to your interiors. With naturals and minerals, there's no need to overthink. It's a straightforward way of decorating that invites a laid-back vibe.
Whether it's floral motifs, sturdy wood pieces, or recontextualized found objects, there's a whole world of textures, shapes, and colors to bring into the mix.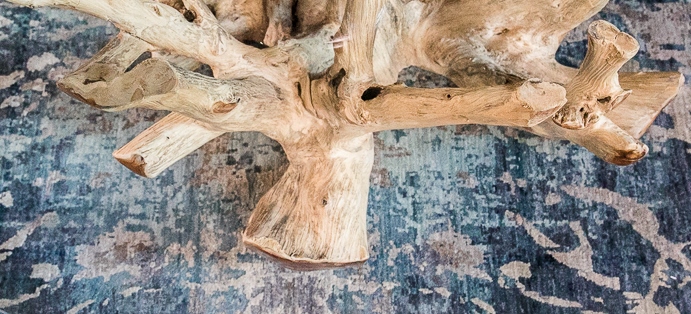 Bless your home with natural art. You won't find this anywhere except Green Front's BUILDING 1. Light grains of teakroot and organic curves are a refreshing reminder of life's organic beauty.
Use rugs to blend in with or add contrast to the room's color dynamic. Look for rugs like these classic designs in BUILDING 1. You can also find Green Front rugs in our Manassas location.
Dash off to BUILDING 5 for this artistic, evocative, silly-meets-serious pastoral rendering. [Feel free to give each sheep a name!]
Wood that turns into stone. A piece of petrified wood in the home reminds us of the magical transformations occurring in the natural world.
Marble and minerals are cool to the touch and to the eye. Interlude Home is known for its fashion-forward accessories and home decor, which are featured in BUILDING 6.
Come see GJ Styles in BUILDING 8 for its line of worn, relaxed leather chairs that brilliantly echo this neutral color scheme.
Design Notes:
Natural materials are a great way to lighten, brighten and clarify your decor. Quartz crystal clusters and blue geodes are the essence of enduring cool. A little dash yields an excellent bang for your buck. When in doubt, take a look out the window—something's bound to inspire!
Anything But By-The-Book
Using rocks and minerals as bookends is a classic, but you'll woo yourself and others by using them in unexpected ways. Add them into a dining room table setting and use them to add sparkle to your home.
Go Big
Add maximum impact with a large, sculptural object plucked from nature. A single piece of teakroot will make your guests feel as if they're meant to be right where they are.
Break Up The Look
If you're tied to a greige (grey+beige) color spectrum, enliven the look with texture. A pop of petrified wood brings lightness among dark leathers and woods.
Find NATURALS + MINERALS AT GREEN FRONT
An excellent first stop on the way to natural decor, you can find anything from benches, sideboards, and desks, to art/objects, pillows, and vases. The first floor of BUILDING 1 holds an assortment of vintage rugs, as well as exotic and reclaimed decor from India and Indonesia. With pieces from Balaji, D-Bodhi, Latiyal, and Handicrafts, you'll see a bit of everything, including our selection of Brazilian cowhides and Argentinian sheep hides.
Home to Green Front's sister company, Green Front Accessories Inc., BUILDING 5 is the epicenter of our home decor collection. Not only will details like clocks, abstract art, vases, and pillows help solidify your natural design, the selection of light fixtures will perfect the look by casting it in the right highlight. It's also ideal come the holidays, when you'll find a variety of trees.
With three full floors plus a basement level to explore, this is Green Front' contemporary, mid-century modern, and industrial source. From the basement to the loft-like vibe of the top floor, BUILDING 6 helps you compose a natural setting that will remain stylish and current.
BUILDING 8 is the largest of our tobacco warehouses and features American-made masterpieces from top names like King Hickory, Amish-crafted Barkman, and lifestyle brands like Magnolia Home. Here, you'll find wood coffee tables, side tables, and benches that suffuse homes with natural grain.