On the 5th day of Christmas, that now infamous true love may well have given five golden rings to one entirely spoiled lady love, but for those on your list who aren't into jewelry, Green Front has you covered. With a wide and varied selection of items, finding the perfect Christmas or New Year's gift is a breeze. There's so much to choose from we've picked out five of our favorite gift ideas to get you started. And just in case your budget is more balanced than blinged out, these unique selections are all priced under $50.
1. Kilim Rug Pillows
In rich, earthy colors, these pillows are tossable, loungeable, versatile art. In the style of their namesake tapestry-style Turkish rugs, these pillows feature one-of-a-kind designs and striking texturing. Priced at $35 a piece, they make the perfect companion for anyone in your life who enjoys cozying up with a good book and cup of tea.
2. Hand Woven Banana Baskets
As chic as they are versatile, these gorgeous, generously sized baskets are excellent gifts for that one friend or family member who's put " finally get organized" at the top of their list of New Year's resolutions. Comfortably priced at $39 each, you'll be tempted to jump on board the tidy train and buy a couple for yourself as well.
3. Small Goat Skin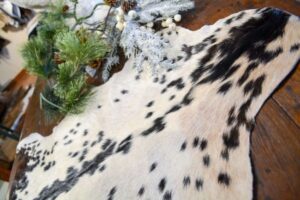 In today's age of immediately accessible everything, the dilemma of what to get for the person that has everything is becoming increasingly common, and challenging. Enter these stunning goat skins from Green Front. Their diminutive size allows them to work either as floor coverings or decorative throws, and their equally diminutive price ensures that this year the award for most creative gift-giver will go to you.
4. Teak Wood Dough Bowl
You don't have to be a born Betty Crocker to appreciate the beauty of these exquisite hand-carved teak bowls. But if you happen to have a kitchen goddess (or god) on your list, or even just someone who loves to host and entertain, these are sure to hit the spot. Priced at only $29, these statement-making dishes will add a hand-crafted beauty to every occasion.
5. A Lion
"Hear me roar." This lion is large, in charge, and makes a fun, funky statement. Made of metal, hand painted and uniquely distressed in yellow, the king of the jungle cuts an unforgettable silhouette. Ideal for the most colorful people on your holiday shopping list, the lion is $29 and is sure to bring a smile, not to mention a pop of brilliance, to any room.