We could all use a little more warmth and light in our lives right now. That's why, at Green Front, we want to give you the tools to design your perfect outdoors area: one that expands your home for entertaining, merging the natural light of summer evenings with the comfort of your living room. In other words, the perfect place to relax, entertain, gather with friends and family, and enjoy the open air.
Whether you're designing a dining area, a poolside patio, or a small lounging nook, beauty must balance function. Styles change. Materials wear differently. Weather happens. That's why we've created this guide to help walk you through the high-quality lines that we carry here at Green Front. From dining sets to deep seating, occasional tables and chairs to custom upholstery options, we'll highlight some of our most loved pieces and our bestsellers, introducing unique features and sharing some of the specs that make these outdoor pieces the best buys around. Whether you're searching for classic or contemporary, barside or poolside, we have it at Green Front.
Dining Tables and Chairs
Whether you're entertaining a crowd or staying in for a date night, your table is more than just a place to eat. It creates the space for you to gather and reconnect. That's why taking the time to find the perfect outdoors dining set is essential. Not only do you need to consider the shape and size that will function nicely in your outdoor space, but you also need to find the best materials, style, and seating options. Let's start by looking at some of the most popular picks in our showrooms.
Wood
Looking for a strong central hub for your gatherings? This Ipe wood table made by Jensen Outdoor is one of our bestsellers, featuring bench seating for large crowds and a built-in lazy susan so that no one has to reach across! Not only is the large, square shape of this table unique, but the FSC-certified wood is environmentally friendly, as it's sourced from responsibly managed forests. With weatherproof hardware and splinter and insect-resistant wood, this table will bring friends and family together for years to come.
Ceramic
Inspired by central California's Monterey Bay, Barlow Tyrie's mid-century modern outdoors dining set offers clean lines and a timeless aesthetic. The solid teak frame is naturally resistant to warping and rotting. Its color can be maintained with teak care products or can be left to age naturally in the sunlight to a silvery gray, which many teak-lovers prefer. The high-fired ceramic Italian tabletop is beautiful and easy to wipe clean. In addition, the teak chairs feature seats and backs woven with Textilene cord, a lightweight braided material that is both durable and weatherproof.
Woven
For a classic look and timeless feel (with modern sensibility), these Lane Venture dining chairs offer the best of both worlds: an intricate "X" pattern design overtop a stable aluminum frame. The woven synthetic material in French Grey is made of high-UV polyethylene, which is weather-resistant, and the removable cushions are available in a variety of fabric colors with top-stitch tailoring (all mildew and stain proof). The large tabletop also evokes a natural feel with a printed wood grain, and the low-maintenance cast aluminum base is both rust proof and lightweight for easy repositioning.
Mixed Materials
To add a more retro vibe to your outdoors space, check out this Summer Classics set, which offers a variety of textures and unexpected contrasts. The chairs feature curved, black aluminum frames with open cane weaving, which is constructed using natural, all-weather resin wicker. The black-reeded, hourglass table base is topped with superstone for a smooth surface that is built to last.
Deep Seating
What's better than lounging in the open air? With a backdrop of blue skies and green space, your patio or deck can be just as relaxing and inviting as your living room.
Summer Classics Italia
Slender and refined, the Summer Classics Italia collection features simple lines and designs in wrought iron, a material used for centuries in outdoors furniture. Prized for its weight and stability, as well as durability, the hammered iron needs only light maintenance to stay beautiful for years. Pair one of these sofas, benches, or lounge chairs with some flanged pillows, and you'll have a patio set straight out of an Italian villa. Saluti!
Jensen Opal
This Craftsman-style collection by Jensen features functional straight lines and a signature "O" design centered on each chair back, adding understated detail and giving the Opal collection its name. With a strong, sturdy silhouette and a soft, deep seat, these couches and loungers are not just comfortable but can also weather the elements. Constructed using Brazilian walnut, known as Ipe Wood, the tapered slats are up to five times harder than most woods and twice as dense, making them resistant to insects, rot, weather, and abrasion. You can also feel good about the fact that Jensen uses wood that is 100% FSC-certified to ensure that our renewable resources are protected.

Kick back and relax, Hemingway-style. Inspired by West Indies coastal communities, Lane Venture's classic lounge chair design starts with powder-coated cast aluminum. The handcrafted "black truffle" matte finish, paddle arms, and wrought aluminum accents give this lounge chair a sophisticated vibe. Synthetic wicker weave on the arm panels and removable cushions (with mesh bottoms for drainability) add to the comfort.
Lloyd Flanders Largo Sectional
Lloyd Flanders' Largo sectional is the apex of outdoor luxury. With a large wicker weave and overstuffed cushions, this couch is both lightweight and roomy. The durable aluminum frame and high-quality woven vinyl guarantee that your furniture will remain soft while holding its shape, and UV inhibitors promise that the vintage oak color won't fade. Spring bond cushions are wrapped in a hydrophobic material that means these cushions will literally "shed water." Even better, the custom cushions can be upholstered in a variety of colors and patterns.
Summer Classics Montecito
The Summer Classics' Montecito chair is the ultimate lounger. This chair offers a deep cushion paired with a low profile for a relaxed, natural look. The oversized wicker weave, inspired by hand woven basketry, is constructed using N-Dura resin wicker, which is all-weather and UV resistant. Hypoallergenic cushions are firm but plush, covered in a soft, fade-resistant outdoor fabric available in myriad colors and patterns.
Spot Seating & Occasional Chairs
As accent pieces, occasional chairs provide a subtle touch to complete your outdoor space. Furnish that perfect reading nook or create a quiet place to sip a cocktail and watch the sun set.
Sunset West Milano Armless Club Chair
Inspired by the high-fashion city of Milan, Sunset West's chic rope chair is a statement piece, strong solo or as part of a set. Built not just for form but also for function, this club chair is constructed of fully welded aluminum wrapped in colorfast olefin rope. The trendy striated rope design is juxtaposed by a more organic curving frame creating a cross between modern art and furniture.
Summer Classics Catalina Lounge Chair
With that time-honored woven design, Summer Classics' Catalina collection is your go-to for hot summer days. Light and durable, the Catalina's wrought aluminum frame is woven with straps that offer the latest in flex technology from Sunbrella. While flexible and quick to respond to movement, the straps hold their elasticity, springing back to their original form without sagging or puckering. Choose between a chalk frame with white strap or a midnight frame with charcoal strap to match your outdoor decor.
Summer Classics Serenata Lounge Chair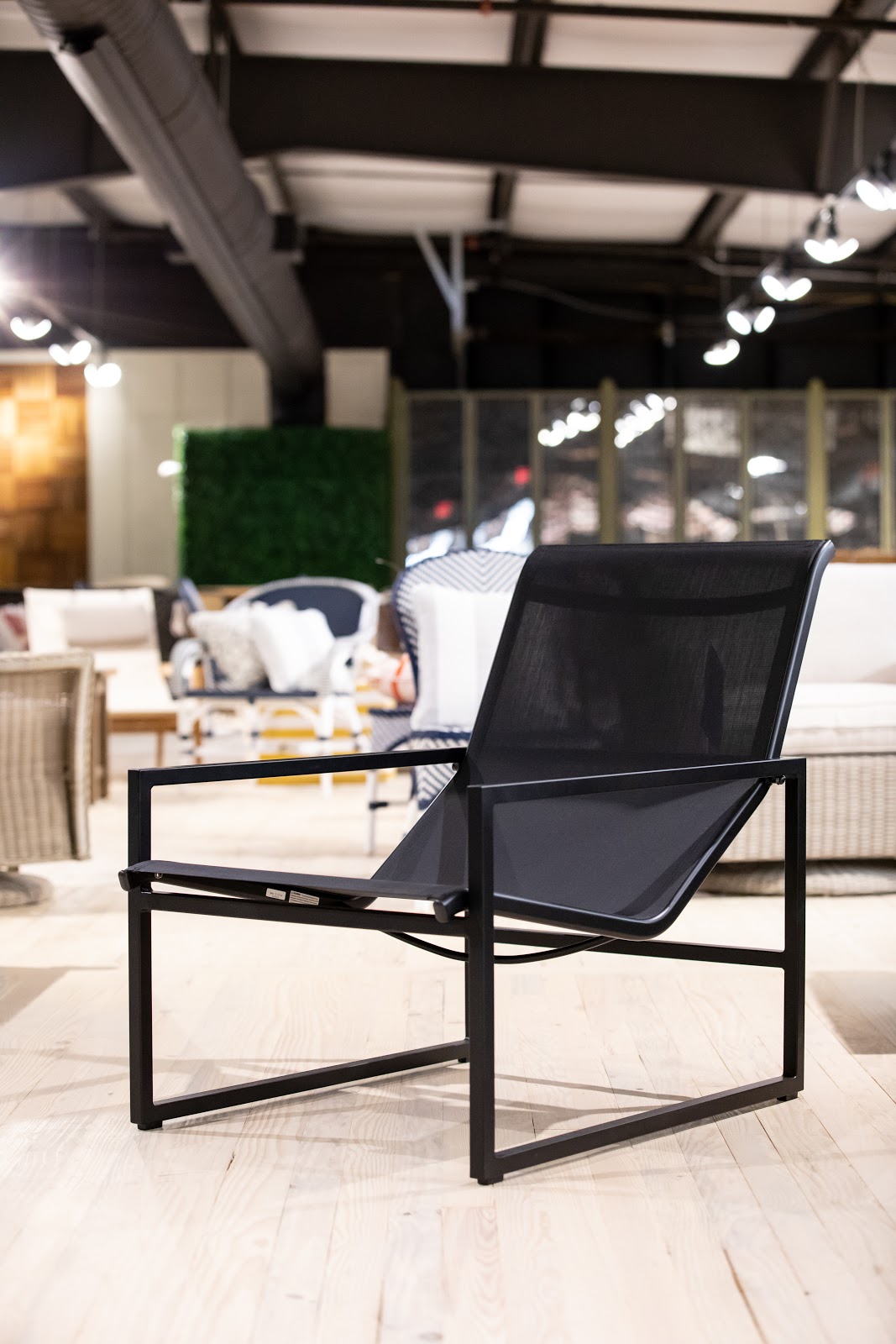 Meet the Serenata Lounge chair. This modern sling design sits low, blurring the lines between a chair and a chaise lounge. Available in chalk or midnight shades, it sports a versatile design that can be coordinated, mixed, or matched with a number of other pieces. A sturdy aluminum frame and performance fabric are lasting and easy to maintain.
Occasional Tables
Whether on their own or paired with an ensemble, occasional tables offer more than just a place to put your drink. They can be statements by themselves. Be creative! Mix and match metal, wood, and woven pieces for a custom, coordinated look.
Lane Venture Hemingway Islands Table
Perfect by itself or paired with the Lane Venture Hemingway Islands deep-seating lounge chair above, this cast aluminum table's stylized leaf design is clean and elegant. The table's base features a handcrafted, powder-coated aluminum finish with a faux travertine top. Plus, with materials that are mildew and rust resistant, you won't have to worry about the upkeep!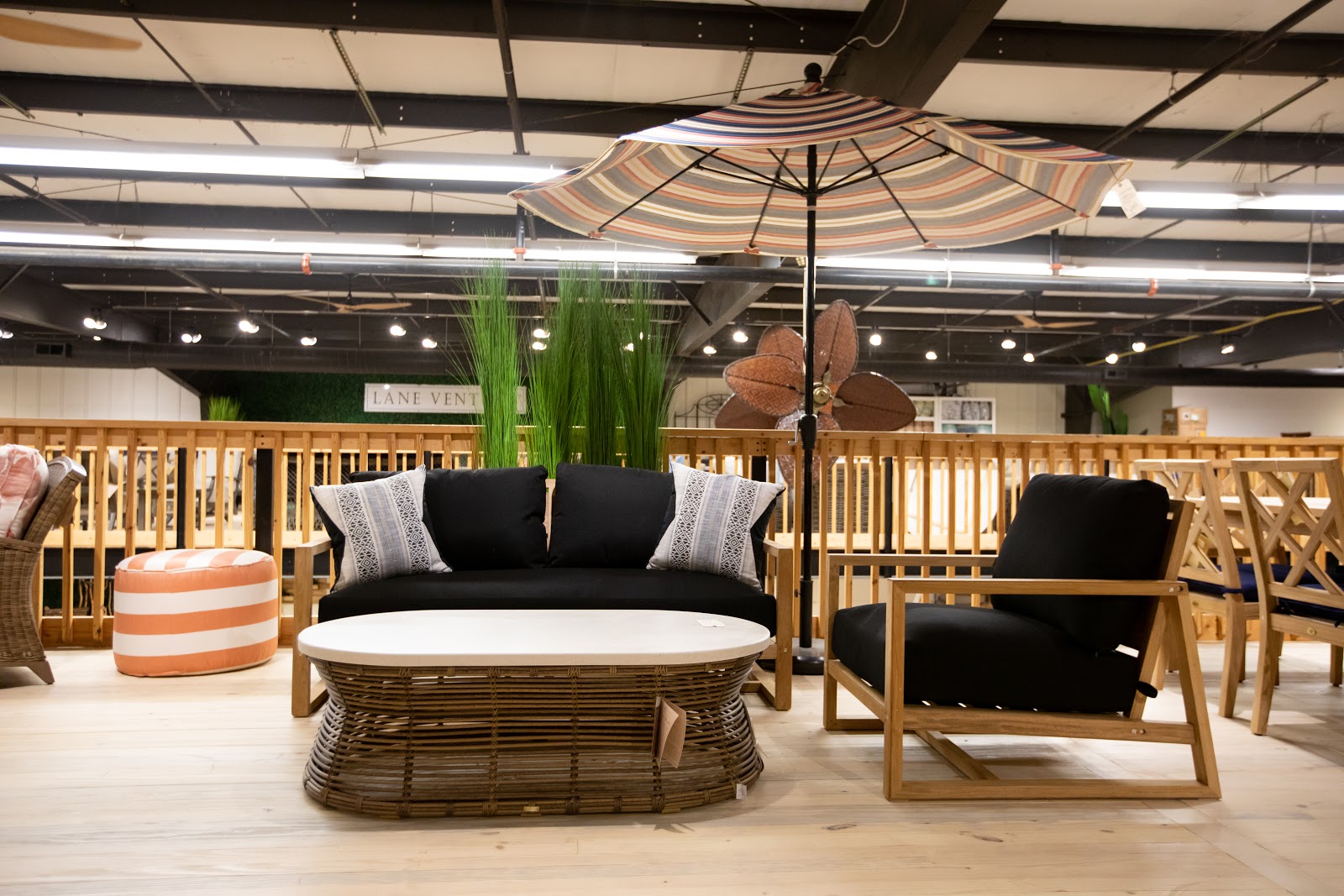 Summer Classics Harris Coffee Table
For a bright surface that will last, try Summer Classics' outdoor coffee table with a superstone top and wicker base. Superstone is as strong as its name, featuring a five-layer composite with an aluminum "honeycomb" core. Here, the contrast between the modern superstone top and the natural hourglass-shaped base creates a versatile piece ready to mix and match with various styles of seating.
Summer Classics Mandarin Coffee Table
Reminiscent of natural rock, this cast stone table adds intrigue to any outdoor setting. The faceted edges play on shadow and light to give the piece dimension, and its smooth surface is large enough for a crowd. A natural stone finish allows the table to blend seamlessly into almost any outdoor environment and to pair easily with different colors and textures.
Custom Upholstery: Pillows and Cushions
Want to make your outdoor space a little more you? Coordinate patterns and textures with custom upholstery to create a bold palette or a muted one. Add a splash of color or simply update your look with some of the quality cushions, pillows, and rugs available at Green Front.
Custom Upholstery for Cushions
Summer Classics Custom Upholstery
With over 60 fabrics to choose from, Summer Classics is a leader in custom outdoors upholstery, offering both style and reliability. For a bright pop of color, try one of the cajun or flamingo prints. For something more neutral, peruse their stone, terracotta, or pewter shades. Their outdoor cushions offer a supportive insert encased in a quick-dry, water-resistant fabric. Not only are these performance fabrics built to breathe, allowing moisture to escape before drying, but they are fade resistant, so that, as Summer Classics says, "your style will change before the colors do."
Lane Venture Custom Upholstery
Lane Venture's assortment of solution-dyed fabrics are the best of both worlds: stylish and built for the outdoors. From solids to chevron to stripes, you can pick a look that's just your own. Like patterns? Lane Venture offers florals, leafy greens, and geometric designs as well as more playful limes and tangerines, watercolor lookalikes, and shoals of fish. While some designs might look delicate, these fabrics are robust as well as mildew and stain resistant.
Decorative Pillows
Decorative pillows can give your gathering place a finishing touch and a bit of personal flair. Stylish pillows from Lane Venture or Summer Classics can make your outdoors space seem new. Shift your color scheme with a few carefully-selected fabrics or rejuvenate some well-loved pieces with a pop of color.
Lane Venture pillows come in a variety of sizes. Their gel-fiber fill mimics the softness and cushion of down while the high-quality acrylic fabrics are specially engineered to withstand the elements of the great outdoors. Even better, hidden, weather-resistant zippers make cleaning a breeze.
Stylish enough to be used indoors as well as out, Summer Classics' indoor/outdoor pillows offer designs ranging from classic to contemporary. Choose from a variety of different materials, such as UV polyester (with the look and feel of velvet) or 100% solution-dyed acrylic for steadfast color. Whether you're on the hunt for tassels or bolsters or just your basic throw pillow, Summer Classics has them all.
Performance Rugs
Wendy Jane Rugs at Summer Classics
Neutral desert tones with subtle shifts in color make this Wendy Jane rug perfect for anchoring any outdoor space. Handcrafted from 100% polypropylene fibers, the rug resists dirt and stains while withstanding heavy use, leaving you worry free. Details such as the braided fringe accents heighten the rug's impact.
Like what you've seen so far? This is just the beginning of Green Front's extensive selection of outdoors furniture and decor. Pay us a visit. We'll give you the freedom to wander the displays, try out the seating, and design your own outdoors.
Expand your boundaries this summer. Move your indoors out, and experience the open air in style.