Punxsutawney Phil may have predicted 6 more weeks of winter but at Green Front, the countdown to warm spring evenings and lazy summer afternoons is well underway. Our selection of outdoor furniture will take you from easter egg hunts to summer barbecues with ease and style. From dining tables with built-in fire pits to chic wicker collections, these styles are not your mama's patio furniture. Read on to find 5 of our favorite outdoor looks.
Wicker gets a fresh new face with this dynamic arrangement from SC Private Label's Santa Clara Collection. Our sofas, loveseats, lounge chairs and coffee tables feature neutral tones to perfectly compliment any patio or deck. Durable cushions welcome the rough and tumble adventures of outdoor life while still keeping things classy. Check out this set in the basement of Building 10.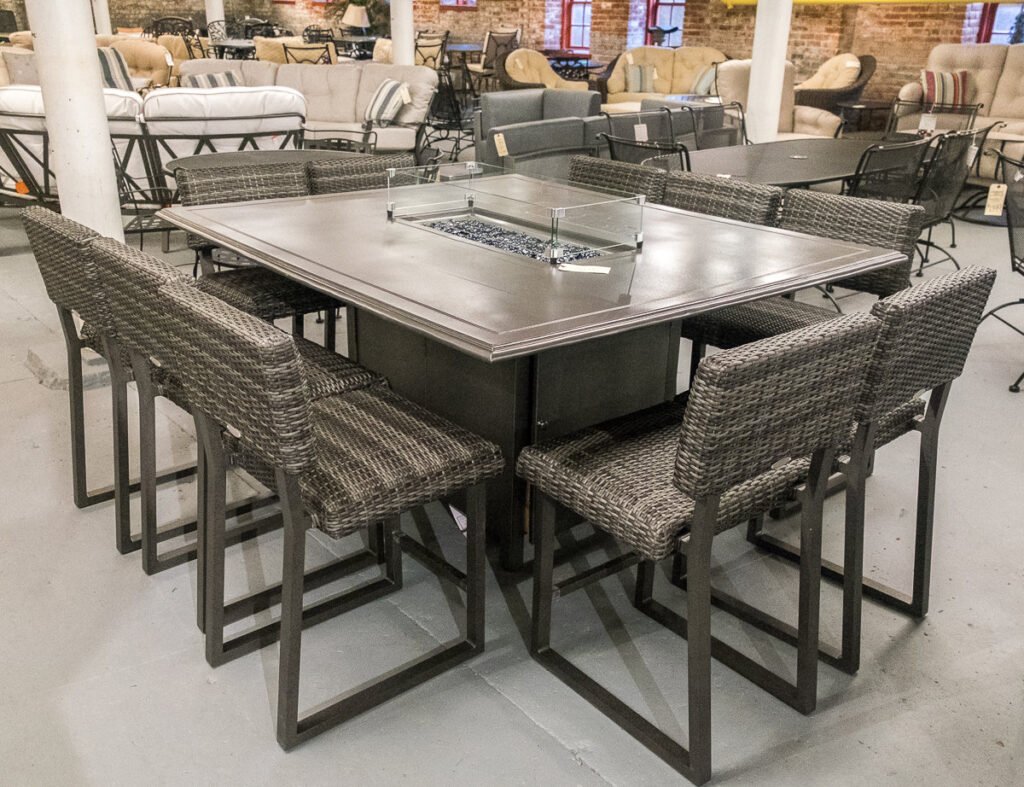 For those nights when there's still a winter chill in the air, this stunning 11 piece fire counter table from Woodard features a center of dancing flame to warm and entertain your guests. With 10 chairs and plenty of table space, it's an urban take on a campfire. You bring the ghost stories and good times and this one-of-a-kind piece provides the rest. See it up close in the basement of Building 10.
This pairing from the Summer Classics' Pacifics Collection invites you to grab a soft throw and sink into the classic canvas cushions. Prop your feet up on the teak cocktail table as you watch the gentle hues of an early summer sunset spread across the sky. Whether you're stealing a few moments alone or sipping wine with friends, this set will have you covered. Come by to give it a test run on the first floor of Building 8.
A good outdoor sofa is a thing of beauty. We love this one from Summer Classics' Charleston Collection for so many reasons it's hard to know where to begin. Versatility and simplicity are at the forefront of what makes this a top pick. While pictured here with charming beach inspired throw pillows, don't forget you can take this neutral hued piece in any direction you wish by changing the accent colors. Be sure to check out our extensive selection of outdoor throw pillows to inspire your look as well as this timeless sofa on this first floor of Building 8.
This sleek dining set from the Tivoli Collection by Kingsley-Bate blends the line between indoor and outdoor furniture. The durable, albeit light, stainless steel construction of the chairs and table place it firmly and beautifully at home in the open air. The grade A teak table top will take on a gorgeous silvery gray patina as it exposed to the elements.  The patina takes roughly nine months to develop and is one of the many reasons it is so widely used in outdoor furniture. You can see this stylish chameleon in the basement of Building 8.
Interested in learning more? Take a look at Green Front Furniture's other outdoor seating and outdoor table options!