A timeless leather sofa is one of the biggest investments in your home. It will be a mainstay in your living room for years to come. Whether your style leans more traditional or modern, a leather sofa can be the staple of your living space that you truly live with.
Green Front offers a host of some of the best leather products in the world, made right here in America, with a leather distributor in Virginia and manufacturers in North Carolina. These manufacturers use hundreds of different types of top-grain leather in an array of different finishes. Choose from colors, textures, and more. These vast customization options allow you to make your leather sofa your own.
Whether it's the buttery softness or an aged patina you're seeking, everyone wants something different when it comes to leather. Timeless leather sofas featuring heavier finishing are perfect for families because they can be easily maintained and stand up to everyday wear and tear like scuffs and spills. Unfinished leather, sometimes called raw leather, wears easily and is meant to gain a unique patina over time. Your comfy leather sofa will gradually mold to fit you and your life and keep those you love gathered around year after year.
Whether you're looking for a statement piece to admire or a comfy sofa that will be broken in and well-loved over the years as the family couch, there's no question that leather has an appeal that keeps us coming back.
Join us as we explore the brown, burgundy, and beyond leather sofas at Green Front. We will take a closer look at some of our best-loved and best-selling traditional leather sofas to reveal that leather can range from classic and classy to fun and funky — it's all in the details.
---
434-03- Whittemore Sherril
This wonderful staple from Whittemore Sherrill features low-slung, deep seats and a wide-track arm.  It is a piece that is designed to be lived in. It is the classic "Cowboy Brandy" leather sofa that will grow with you over time, aging and growing naturally, developing its special patina as time passes. Each year you'll find something else to love about this leather sofa. Green Front president Den Cralle was drawn to the versatility and natural patina of this sofa for his living room. "I picked this sofa because I knew I could build my whole room around it," Den says.
---
The Richardson Stationary Sofa- Bradington-Young

The rich blue hue and flair details on the back of the Richardson adds life and playfulness to a traditional silhouette. The rolled arm is scaled back, and the shape is a subtle change of pace from more formal frames. Perfect for the family, the finished leather in this sofa will wipe down easily and withstand wear and tear effortlessly.
---
French Curve Sofa- Hancock & Moore
The Hancock & Moore "French Curve Sofa" features rich burnished leather. Surprising details like nailheads and embossed contrasting trim applications give this piece a world elegance. The tight back and lack of cushions add to the livability of this sofa crafted from a heavyweight pull-up full-grain leather, also called waxed leather or saddle leather. It's sensitive to scratches, which causes it to develop its prized patina. This sofa can also be customized in any of Hancock & Moore Furniture's hundreds of leather options. At Green Front, seasoned experts can guide you through the process.
---
Teton Sofa- Hancock & Moore
From its solid maple frame to the intricately detailed tufting, the "Teton Sofa" is a tour de force from Hancock & Moore. This is a leather sofa that functions closer to a work of art. While it was not designed to be an everyday living room sofa, you can appreciate the minute attention to detail that makes this sofa almost sculptural in nature. Finished with a custom rub in Mesa to give it a special aged appearance, this Hancock & Moore Sofa is the definition of an heirloom piece that would be perfect for a parlor, office or library.
---
Austin High Back Sofa-Hancock & Moore
As classic as they come, this traditional Hancock & Moore bustle back sofa is the definition of comfort. It is a Green Front bestseller and for good reason. The durability and ease of care that the burst pull-up leather offers makes it the epitome of practicality. Even the Founder and owner of Green Front, Dickie Cralle, has this sofa in his living room.
---
226-48- Whittemore Sherrill
Modern meets classic with this sleek piece from Whittemore Sherrill. The thin shelter arms, graphite color, and architectural leg give this piece a chic profile. Although this sofa may have a uniquely metropolitan feel, the leather for many Green Front leather sofas is sourced from Moore and Giles, based in Lynchburg, Virginia. This leather distributor has been around for over 90 years, and almost all of Green Front's top-selling leather sofas are made with leather that has passed through its doors. Moore and Giles source only the best leathers from around the world in its products and to Green Front's manufacturers. That commitment to using this high-quality leather results in leather sofas that last a lifetime.
Editor's Picks
Kim Taylor has been with Green Front for over 24 years and has played a major role in establishing the leather gallery in Building 9. She has developed relationships with leather manufacturers and suppliers that allow her to provide incredible expertise and insights to her customers. Kim definitely knows her hides inside and out.
Here are two of her favorite leather pieces:
Hancock & Moore Braiding Rocking Chair
Add a little rock to your roll with this rugged chair featuring rich walnut wood.
Durango Sofa by Carolina Custom Leather
The Durango sofa combines comfort with long-lasting American-made craftsmanship. It features a solid hardwood frame, 8-way hand tied springs and is fully customizable in any of Carolina Custom's luxurious top grain leathers.
---
Leather Lexicon
Full grain – Leather that has not been sanded, buffed, or altered — the highest quality leather. Full-grain and top-grain leathers are two industry terms that are often confused with each other. Top grain leather is leather that comes from the topmost part of the hide, thus the name. Leather is split into two layers and sold as separate products: top grain and split leather. The top grain is processed into full-grain leather and corrected grain The second layer, the bottom portion, is split leather, which traditionally is used for suede products.
Corrected grain – Leather that has been buffed, sanded or altered to help it retain pigment.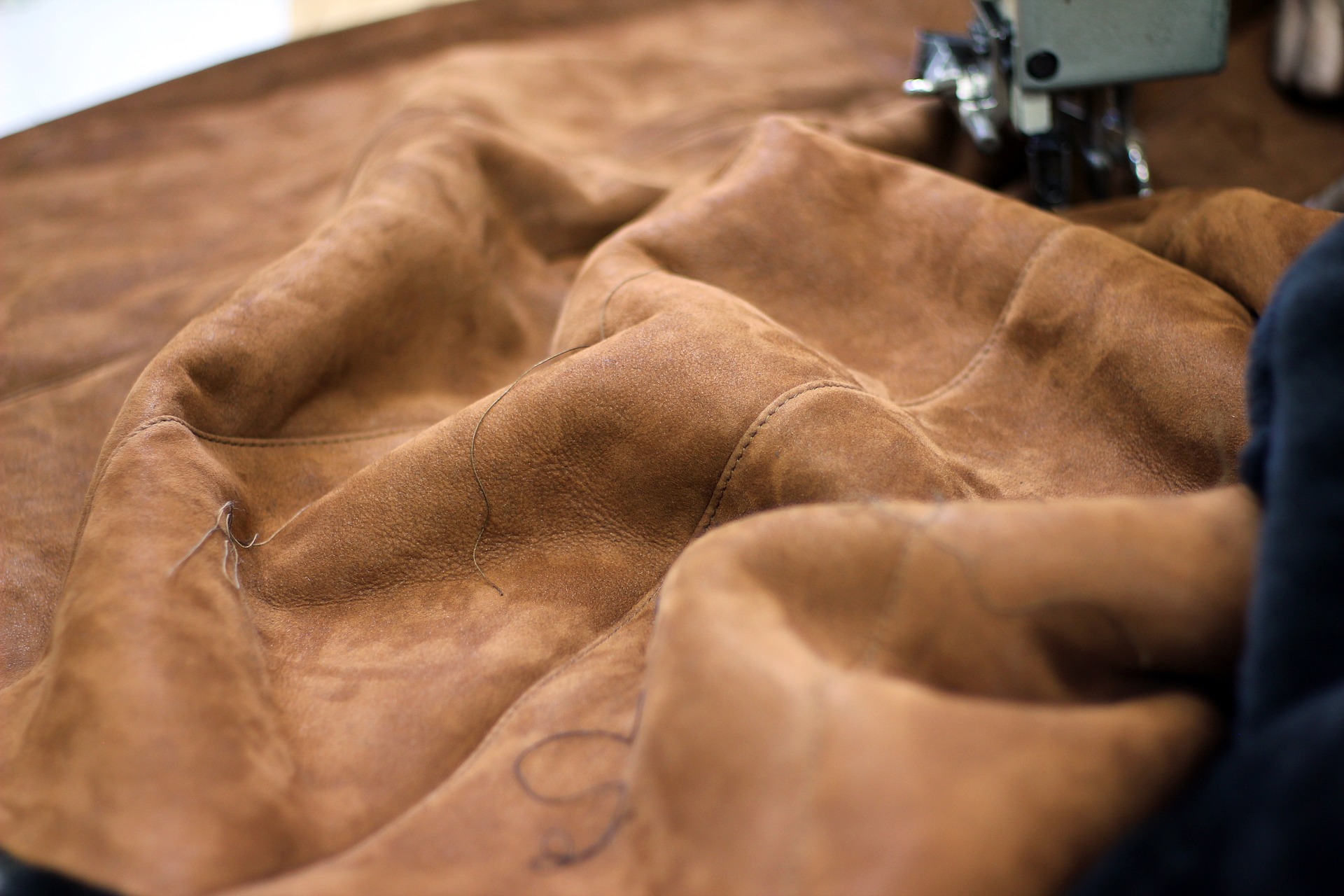 Hand – Industry term to describe the softness of leather i.e. the suppleness.
Fat wrinkle – Fat deposits that create beauty in an animal's hide. Characteristics such as scars, brand marks, neck wrinkles, barbed wire marks, mosquito bites, and more all show the unique differences in each animal's hide and will vary from region to region depending on the level of protection. These markings show an animal's history and give a hide its own special character and story.
Split leather – The lower part of the leather that suede is usually made from.
Aniline vs. non-aniline leather – Leather that has been fully covered in a special bath of transparent dye. The leather is left in the bath long enough for the dye to fully penetrate the hide in a process called aniline dying. This process produces rich, vibrant colors and adds a layer of protection to the hide. The hide's markings and natural characteristics are still visible.
Protected vs. unprotected – Leather that has been treated with special chemicals to extend its life against pollutants and other wear and tear. Unprotected leather does not have a protective coating, is typically softer than protected leather, and is more easily stained and soiled.
Pull up leather – Leather treated with oils, waxes, and dyes that become lighter when stretched apart or "pulled up." This is considered an indicator of high quality.
---
The care and keeping of leather sofas
For finished leathers, we recommend cleaning with a damp cloth and solvent-free cleaner, such as a mild dish soap. To extend the life of your leather and prevent cracking,  protect from grease and oils as much as possible.
For unfinished leathers,  a small amount of distilled water can be used in combination with the correct conditioning products as these leathers will dry out. Otherwise it's best to let these unfinished leathers age naturally and develop their unique patinas.
A few other tips: Protect your leather by keeping it out of direct sunlight which can cause cracking and accelerate aging.  Stains on leather may look worse on the day of the incident but, believe it or not, the proteins in the hide absorb them over time as part of the natural aging process.
---
Hancock & Moore, Whittemore Sherrill, Bradington-Young and Carolina Custom Leather offer thousands of combined leather options to choose from when selecting a leather sofa. Our resident leather expert, Kim Taylor, can help you pick your perfect piece.