While some of Green Front's items come from across seas and continents, others originate much closer to home. Harden Furniture, whose pieces have long been a staple of Green Front's offerings, come a mere 588 miles away from a company tucked in the tiny town of McConnellsville in upstate New York.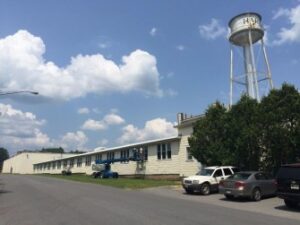 Harden Furniture is a fifth generation family owned and operated business that had its humble beginnings as a sawmill on Fish Creek. Founded by Charles S. Harden in 1848, the sawmill transitioned from bridge building to fine furniture craftsmanship due in large part to Charles' son, Frank, who had a special passion for woodworking. It was Frank's son Harry who would make the choice to use locally sourced and renewable black cherry in their operation.
Sustainability is now a defining characteristic of Harden as the company continues in that vein. Today they raise and harvest trees for their products from a 10,000-acre tract of land which is overseen by its own on-site forestry division.
Sustainable living was a concept that the Harden family and company were living and making a reality long before it become the popular buzzword it is today. The company itself functions entirely under one roof and is completely self-sufficient. Even the wood chips used to heat the massive kilns are gathered from the sawmill which is still in operation.
Apart from the environmentally responsible way in which it is produced, Harden furniture possesses the look of distinctive hand-crafted quality with an incredible attention to detail. All of which contribute to its continued popularity among Green Front's clientele, making the Farmville based company one of Harden's top customers in the country.
In many ways, Harden's family-oriented story, complete with roots sunk deep in the community that surrounds it, mirrors Green Front's own narrative in the Farmville community. Yet another reason why Harden's beautiful handcrafted pieces at Green Front are such a natural fit. They can be seen on the second floor of Building 10 at the Farmville location, as well as at the Manassas location.