Get the looks you love without the maintenance.
Summertime living is meant to be easy. Outdoor furniture is essential to making that happen. A lounge chair by the pool. Deep seating on a patio. We find that outdoor living is at its finest when it's simple and low-maintenance. Less to maintain means more time for cookouts, pool parties and everything in-between. Here are our best picks for easy, high end outdoor furniture.
COMFORT, BUILT IN
Woodard has deep seating perfect for entertaining guests. Offer everyone a soft seat without worrying about cushions that need to be stored away when not in use. Woodard outdoor seating features built-in self-draining technology with reticulated foam that allows you to enjoy the comfort of cushioned furniture without the maintenance. Bring on the summer showers, wet towels and big family get-togethers.
THE TROPICS ARE CALLING
Tropitone pieces are found in resorts the world over, and there's a reason why. They're built to last and created to require as little upkeep as possible. Casual dining sets are perfect for poolside life.
Tropitone offers a padded sling option in its chaises, lounges and gliders, with quick drying material. Tropitone pairs perfectly with everyday relaxation.
SPLENDID SUPERSTONE
What are summer nights for if not bringing everyone together to celebrate? If you're needing extra outdoor or indoor surface space, Superstone from Summer Classics is the solution. Superstone is a highly versatile composite material. With the weight and beauty of stone and the durability of concrete, Superstone can be utilized on consoles, dining tables, coffee tables, and end tables. There are even three different finishes to choose from. A Superstone surface can be fitted with umbrella holes for outdoor living or even added to bar carts.
THE POSSIBILITIES OF ENVIROWOOD
Envirowood is a post-consumer product unique to Seaside Casual. Furniture made from Envirowood is the pinnacle in durability. Seaside Casual pieces are ideal for breezy areas like boat docks or beach house decks. They are available in a wide range of colors. With rugged construction and plenty of heft, they are ideal for vacation rental properties or second homes.
VIBRANT TOUCHES
Make your low-maintenance outdoor living space come alive. Glazed side tables in a brilliant green, teal, orange, and more are a perfect pop of color. Woven chairs like the one above by Seasonal Living add texture and are made of durable regatta rope.
MATERIALS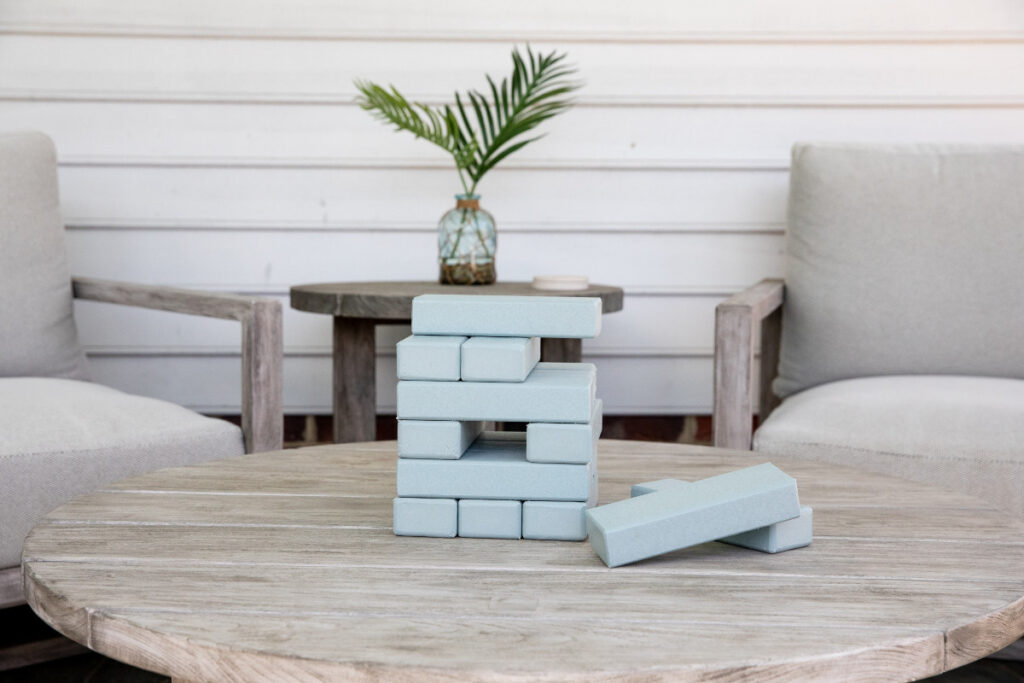 Fun lasts all summer long with jenga blocks from Seaside Casual's signature Envirowood material.
A beautiful Lattice chair from Summer Classics features cast aluminum with a powder-coat finish.
This pre-aged teak dining chair from Summer Classics displays a striking silver shade.
The Echo end table from Summer Classics features the ultra-durable Superstone with resin wicker base.
The Rio end table from Summer Classics is made from long-lasting resin wicker that's coated in a special UV resistant finish.
Love the look of acrylic? Acrylic chairs are not just for indoor dining and can take center stage in your outdoor dining space as well. They'll be in stock soon at Green Front!
WHAT'S TRENDING
These low-maintenance outdoor furniture trends will be big this summer:
Self-draining built-in cushions: Be on the watch for comfort that's included into the seating itself and that is designed to dry quickly.
Glaze: Glaze is a great way to amplify jewel tones in your outdoor accessories and make them pop even more.
EDITOR'S PICKS
Mary Gordon has been a sales associate as well as our outdoor living department manager at Green Front for almost 12 years. She loves the variety of working in Building 8 where she has become an expert in low-fuss outdoor furniture.
Here are Mary's three essential items for creating a low-maintenance outdoor environment:
Seaside Casual Chat Chairs. The Chat Chair is a new take on the classic Adirondack. It's cleaner, more modern and features a more rounded back. The real low-key beauty of a chat chair lies in its less deep seating so no cushions are needed. Chat away!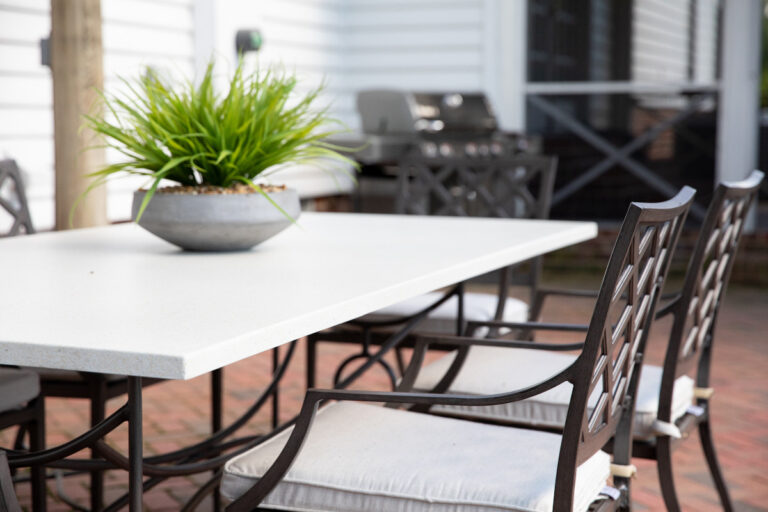 Summer Classics Superstone tables. Superstone tables are versatile and durable. They can be added to many different bases and withstand the elements with ease.
Tropitone sling back chairs and lounges. Tropitone sling back chairs and gliders are popular and easy to care for. They are comfortable with no cushions but Tropitone does offer a padded sling option if you'd like the added softness.