What if you could step inside the mind of a seasoned interior designer for a unique vantage point on the Green Front experience? We sat down with Avery Sefcik of Richmond-based Avery Frank Designs for some priceless insight on how he navigates a visit to Green Front, his own design inspiration, and how to find a little of your own.
Avery's extensive European travels are at the heart of his designs.
"My interest in architecture and design stemmed from traveling with my family to Europe for many years as a child, visiting gorgeous castles, palaces, and hotels. I find that the more you travel, the more you learn and feed your creativity," he says.
"Being a designer, I love to make a home 'wow' its visitors. Unexpected pieces, like a dresser from India or a brightly colored rug, will constantly delight your guests and give a room life and interest."
Avery finds these "surprise pieces" at Green Front. The diverse selection makes it easy to avoid the rookie mistake of over-coordinating.
"Not everything should come from the same store, which is why I love shopping at Green Front. Their imported furniture comes from all over the world, so nothing is ever too 'matchy-matchy.'"
"I always make my way through Building 1 and into Building 4 where the rugs are. I speak with someone at the front desk and get a map. They will tell me which buildings on the map carry what type of furniture: high end, budget friendly, modern, traditional, et cetera. They are wonderfully helpful and can point you exactly where you need to go," Avery says.
To tackle his actual shopping, Avery Frank Designs opts to break one larger list down into smaller, more manageable parts. Refueling and asking for help are two essential parts of the process.
"I try to look for just one or two things on my list at once. I think to myself 'Okay, right now, let's focus on finding a nightstand and a bed.' After a nice lunch at Uptown Coffee Café, I focus on two more things on my list. Rugs, for instance. Just ask for Glenda and she will help you find the most beautiful rug at whatever price point you have in mind."
In fact, one of Avery's biggest recommendations for having a successful experience at Green Front, particularly for first-time visitors, involves a blend of interaction with the sales staff as well as some essential prep work.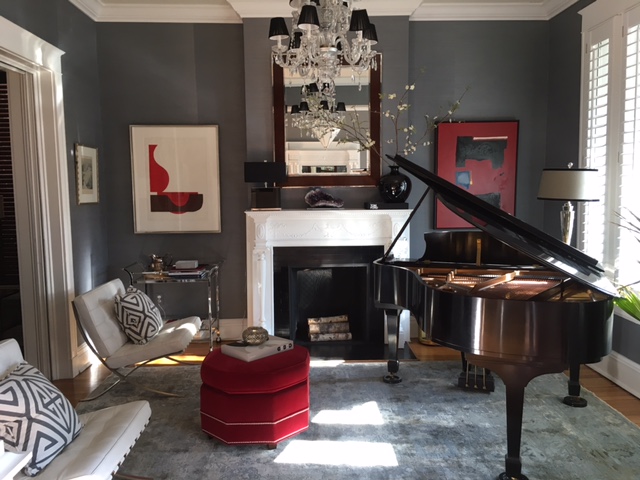 "The best thing you can do to have a successful trip to Green Front, apart from coming early and allowing yourself at least an entire day or more," says Avery, "is to pick up a home design magazine in a store that has rooms and ideas that really excite you. Then, pull out or tag a few pages that really speak to you and will be the inspiration for your own home. Bring those with you, and again, the staff can point you to the right building, the right floor, and the right pieces. Never hesitate, because the staff know so many brands and can help you find exactly what you need. You just have to ask."
Perhaps the most crucial part of finding your own style, according to Avery Frank Designs, is drinking in the world around you and allowing your creative juices to flow.
"The wonderful part about traveling overseas and staying in gorgeous hotels is being inspired by what you see," Avery says. "You can't be afraid to take those beautiful designs and different styles and bring them to your own home. If you see something you love at first sight, it will always work in your home. Go with your gut."
From making lists to seeking inspiration in magazines, thinking like a designer may be a simple as opening your eyes to the possibilities all around you.
At Green Front, those possibilities are endless. It's one of the many reasons that so many designers like Avery Frank Designs visit us regularly and know our sales staff by name. So come, explore, and find out what they already know.
You can see more of Avery's work here or check out his Instagram to see his one-of-a-kind designs.