Few retailers in the United States actually go to India to buy their Indian Rugs, but Green Front is one of them.
Most retailers attend markets in Atlanta, Georgia and High Point, North Carolina. But, Green Front goes right to the source for its Indian rugs and other items.
"We are able to build relationships with individual manufacturers and find the fresh stuff before it's out at the US markets," explains Den Crallé. This is his fourth rug-buying trip for Green Front, but the first to go without his father, Dickie Crallé.
Before leaving, Den researches latest trends and creates a "wish list" of lines to give Green Front's rug agent. Having attended the international rug show, Domotex, in Germany, also  prepares him to look for trends.
His goal is to establish new relationships with Indian rug manufacturers and add diversity to the rugs Green Front already carries. Over the course of 10 days, Den will be visiting six different cities, along with surrounding villages, in northern India, including: New Delhi, Jodhpur, Jaipur, and Agra.
"Some manufacturers have fancy showrooms, others don't," says Den. "It is a cottage industry. Often the rugs are made in villagers' homes. Mostly, I just see where they are finished."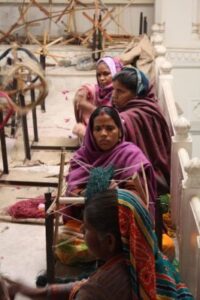 Last year's trip was very successful. Green Front is still receiving rugs from that trip and they are selling fast. "Now I have an even better idea of what's trending and what our customers want," says Den.
Den will also spend four days looking at furniture and tweaking the designs on some of Green Front's direct import items.
Trips like this make Green Front unique and also allow them to provide unusually low prices.
"We see the raw goods and import them ourselves," points out Den. "The pricing is the lowest possible. It hasn't been marked up two or three times by importers and wholesalers."
It will be hot this trip. An extreme heat wave has rocked the continent this year. Temperatures have reached 118 degrees Fahrenheit in southern India, almost causing Den's trip to be canceled.
But, Den believes buying Indian rugs directly from Indian manufacturers is worth it. "It's the kind of thing we've got to do," he says.
You can follow Den's adventures on our Instagram account.