We may be saying goodbye to Don Draper and his smoking, whiskey sipping cohorts this Sunday, but thanks to a new line of furniture from Nuevo Living coming to Green Front, you can bring the classic look and feel of modern, Mad Men furniture to your home.
These mid-century modern inspired pieces capture the sleek simplicity and understated sexiness that would look right at home at the Sterling Cooper Headquarters on Madison Avenue.
Den Cralle was drawn to the distinctive look while visiting the High Point Furniture Market last month. He especially liked the clean lines and delicate angles of the style.
"There is a romantic, nostalgic allure," Den says. "Makes you want to sit down with Don Draper and have a scotch.
"Neat, of course."
Here are five stunning pieces that will bring all the glamour and drama of the Mad-Men world to your living space, no philandering or chain smoking required:

Patrik Lounge Chair
Crafted from rich American walnut, this chair is dark, smoldering and in charge, just like Don Draper.
Sputnik Pendant Lamps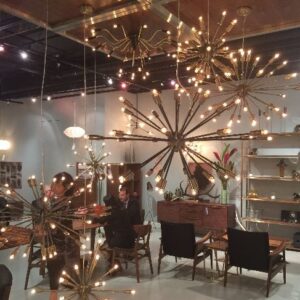 This stunning lamp features an unmistakable and breathtaking silhouette, as does office manager Joan Harris.
Theo Tractor Stool
Though not the type of bar stool you might find at the show's much favorited and frequented Oyster Bar, this piece will give you the perfect spot to sip away after a hard day at the office.
Harris 2 Seater Sofa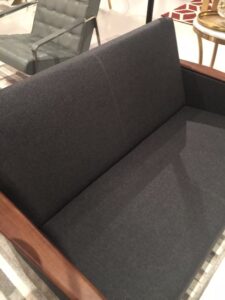 This simple sophisticated design is perfect for cozying up to that special someone, extra dry martinis in hand.
Kosen Dining Table
This incredible six seat dining table, made partially of reclaimed oak, brings all the class of the Mad Men ensemble to your home, minus the dysfunction.
Looking for more Mad Men furniture style ideas? Take a look at our page on mid-century modern furniture.