As temperatures in the South climb to their mid-summer heights and humidity levels peak, Den Cralle and the Green Front team are gearing up for a trip to a place where things are even hotter. Cralle will be making his fifth trip to India, spending 10 days on the vast sub-continent. He will be visiting established vendors to check out new items and re-order popular ones. Cralle will also be connecting with potential new suppliers to keep the influx of Green Front's trademark unique selection as fresh and varied as possible.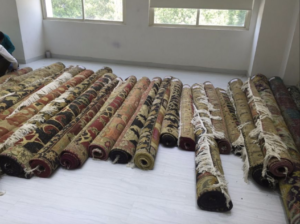 The primary focus of the trip is selecting traditional furniture and accessories, which will soon be available in limited quantities online, as Green Front prepares to launch online sales of a small portion of their vast selection.
This will mark Cralle's second trip to India sans Green Front owner (and Den's father), Richard Cralle. Richard was the first to initiate the straight-to-the-source style of selection that Green Front has become known for. It is one of only a few furniture sellers in the nation to physically travel to exotic locations to choose items.
"It's a grueling 10 days in the heat," says Den. "Lots of bumpy roads and sweltering conditions. You need to be on your game all the time so that you don't miss a good find. Then, between vendor visits, you have a few moments to decompress before doing it all over again."
Despite the physical strain and exhausting pace, Cralle is finding his trips to locations such as India and the Far East are becoming increasingly more familiar. His preparations are more savvy and the expectations are more realistic. At the top of the packing list for this trip is a good camera.
Cralle hopes to capture as much of the gritty brilliance of the rural Indian countryside as possible.
"I'm looking forward to capturing images of not only the products, but the people, the villages, all the things that surround and create the products. A huge part of the appeal of our products is based on the authenticity of the pieces that we hand select," says Den. "That's why I'm excited to share my trip with Green Front's customers. When they purchase a piece, it's more than just a table or lamp, it has a story and a piece of someone else's life. There is a world attached to it."
Stay tuned for more on Green Front's adventures in India. You can follow Den on Instagram here.