Green Front Furniture is nothing if not an adventure. At times, that adventure can be an overwhelming one. We have you covered with the Green Front Furniture field guide.
Our four refurbished tobacco warehouses and revitalized Main Street storefronts invite you to wander through vast spaces packed with a huge variety of furniture, handcrafted rugs and home decor in all colors, shapes, and sizes. However, that can be daunting. As one customer put it: "What I love is also the thing I dislike: There are so many choices. But they are spread over so many buildings, there's no way to easily find what I want."
Many customers felt this way — we heard you and we listened. As a result, we created the Green Front Furniture Field Guide, a compact guide that enhances your Green Front experience. The Field Guide gives you the lay of the land at Green Front, providing you with tons of helpful information like points of interest, building descriptions, locations of specific brands and types of furniture and much more to help you navigate Main Street.
The Field Guide includes the following features:
Map:

Along with info and relevant facts, you'll see a full-color map of our warehouses (each one labeled by number) in downtown Farmville. Use the key to the left of the map to identify parking, restrooms, points of sale, information kiosks, and area restaurants.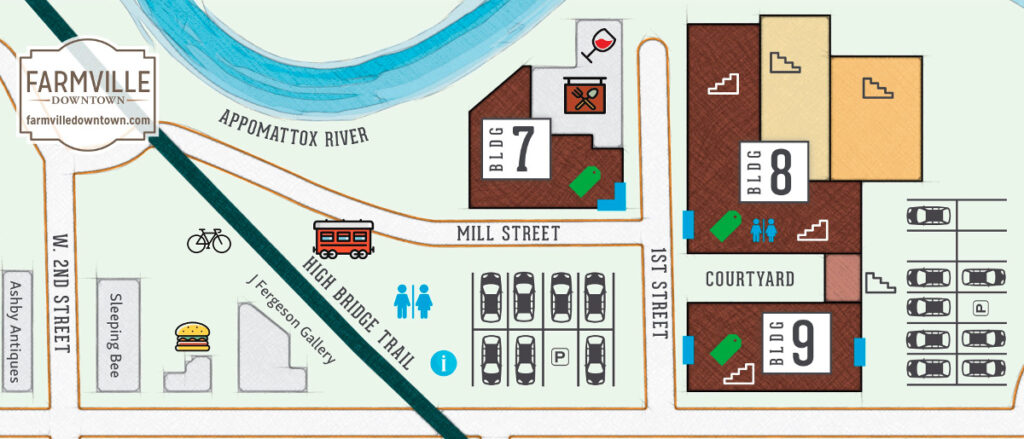 Surroundings:

Our map includes points of interest as you shop, including restaurants such as Charley's Waterfront Cafe, parking, and furniture pickup locations. You'll also find a list of nearby hotels and B&Bs, complete with addresses and phone numbers.
Building Breakdown:

Open the guide further to find a snapshot of offerings available in each building. The color key in the lower left-hand corner will help you identify items by style, manufacturer, location, and price point. Designated pickup locations and special areas are also clearly labeled. (Before you visit, be sure to view our Interactive Map to begin exploring from the comfort of your own home.)
Helpful Hints and Extras:

The guide contains all you need to know about Green Front, including hours, other locations, how to shop online, and delivery information. You'll also find helpful hints, such as how to find a sales associate or price items that are missing a tag. Don't forget to snap a picture of your favorites with your phone so you can keep track of your discoveries. The back of the guide even provides space for notes and a 6-inch ruler for when measuring is a must.
On your next trip to Green Front, pick up a Green Front Field Guide in any of our buildings and use it as your trusty companion. The guide fits in the palm of your hand but can provide all you'll need to make the most of your adventure. The field guide is the brainchild of Den Cralle. As he expresses it, "the guide is packed with vital information about how we organize our stores, in an easy-to-read format. It is definitely going to become an indispensable part of a Green Front visit for our customers."