Green Front has developed a name for itself in many unique markets around the world but few have quite the appeal of their selection of English antiques and benchmade pieces. That selection is no accident. Green Front buyers make regular trips "across the pond" to scour the English countryside, hand selecting antique and vintage items to be shipped back to Farmville, Virginia.
This spring, seasoned veterans John Wingo and Shane Newcombe made the trip. Relying on decades-old relationships forged with dealers in the UK, Wingo and Newcombe spent a few busy but productive days navigating the tiny country roads and villages of rural England. Read on to see some of their best finds.
High color vintage signs like these are always a popular item with Green Front customers. With delicate details and brilliant contrast, metal signage like this is the stuff of antiquing dreams.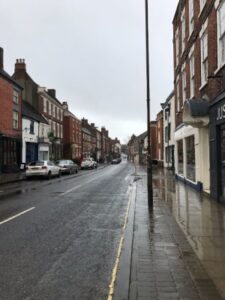 Rows of warm brick houses and shops line the streets of quaint English villages. Small towns like these are a common sight for Newcome and Wingo during their whirlwind trips.
A stack of generously sized trunks waits in the corner of an antique shop to be sent to their new home on Green Front's showroom floor. Over the years, Green Front buyers have developed an expert eye for spotting treasures like these.
Copper cooking pots line a gorgeously weathered green bench in this dealer's shop. Warmth and durability are part of what makes these vintage antiques so appealing.
A intricately carved lion's head door knob is worn smooth by millions of hands and turns. It's patina is perfectly brought out by the warm, weathered wood behind it.
Even busy folks like Green Front buyers need nourishment. It doesn't get more classic than this beautiful, and delicious, English breakfast spread. All that's missing is a spot of tea.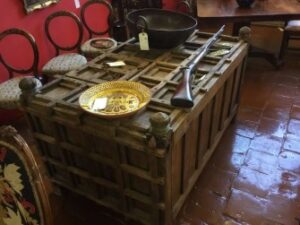 A shot gun, ornate plate and rugged iron bowl rest on the sturdy back of a massive chest, hearkening back to days of manors made of stone and massive hearths with crackling fireplaces.
Chic and understated, a white lettered bread box rests atop a small wooden table with gorgeous carving. Whether simple and classic, or ornate and detailed, vintage pieces have the ability to capture any style.
Weathered wooden cases stand at attention, their liquid contents long-since used. Classic European liquors are perennial American favorites and what better way to bring it into your home then with these multipurpose boxes?
John Wingo carefully inspects a copper watering can while a dealer looks on. This thorough selection process is what allows Green Front to carry an unrivaled selection of imported furniture and antique wares.
Make sure to check out Green Front's amazing collection of antique and vintage English finds in Building 8.